MYSTERY MUST-HAVES: ESSENTIALS WE HAD NO IDEA WE NEEDED
Many of the below items weren't on our radar when we registered. Others we registered for but had no idea just how much we'd use them.
NoseFrida Snot Sucker
I'm sure you never imagined you'd take up a hobby that involved using your mouth to suck snot from another human's nostrils, but that will all change once baby arrives. And rather than register for one of those squeezable bulbs – which many hospitals will give you as a parting gift (we use that freebie as a backup) – register for a NoseFrida and replacement hygiene filters. Lots and lots of replacement filters. Sucking out snot sounds disgusting, I know, but you'll get way more snot-per-suck (SPS) than you will with the squeezable bulbs.
Boon Drying Racks
Get yourself a Boon system. Now. We hardly ever clear out our Boons (we have two – the small patch of grass and the larger lawn – as well as a couple flowers and twigs). We use it not only to air dry those hard-to-reach bottle parts, but we actually use it like a counter top cupboard (our clean bottles pretty much always stayed there when they weren't being used). The only thing I don't understand about Boon is why they market it almost solely to new parents: we'll be using our system well beyond the bottle and sippy cup years. Boon also offers handy bins for your dishwasher (perfect for washing and drying small parts on the top rack).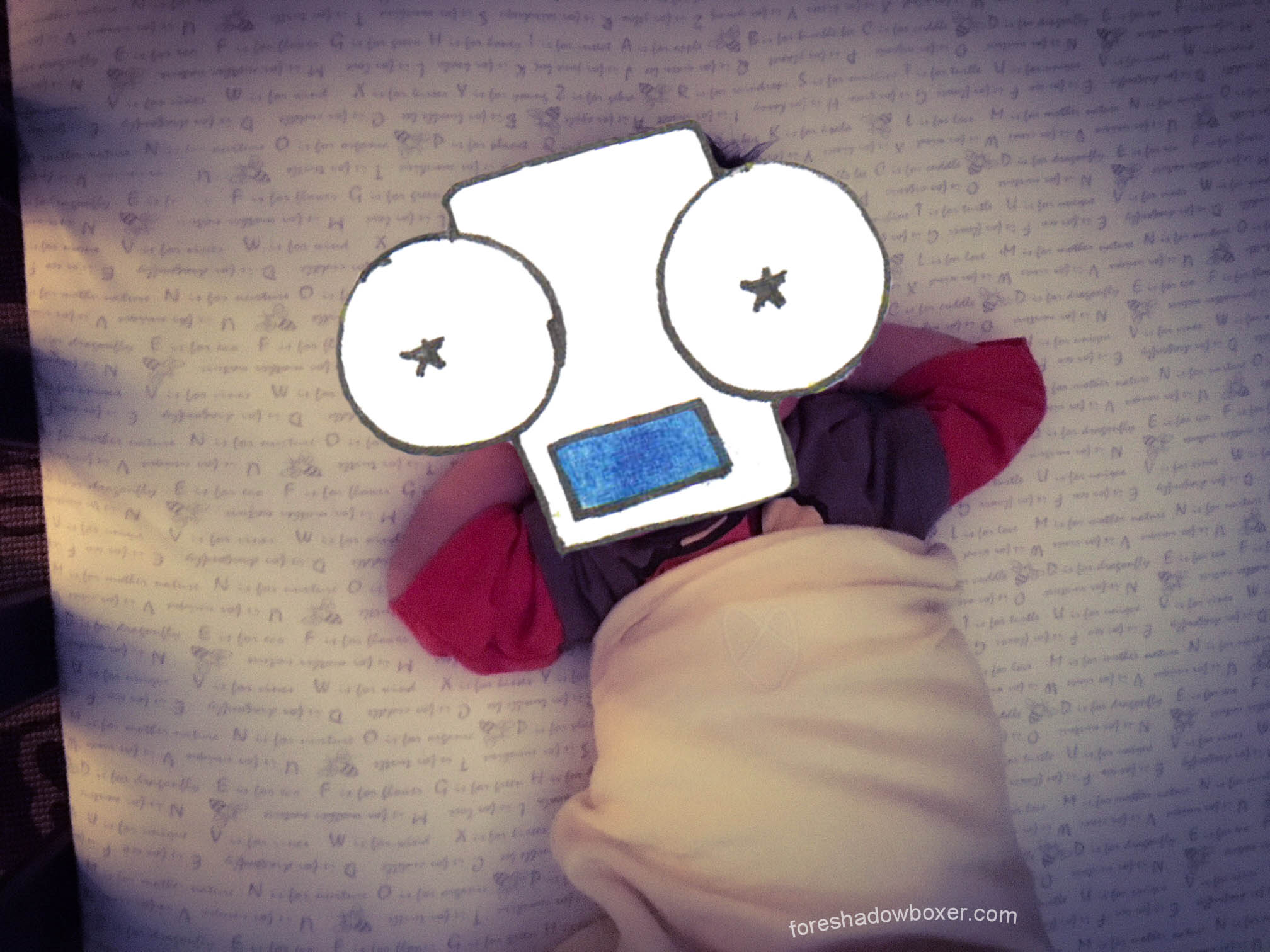 Sleep Sacks (aka Wearable Blankets)
Swaddling is a fine art, and it can take some time – and a great deal of patience – to master. Sadly, failing at it could potentially put your baby at risk if the blanket becomes unfolded in the crib. Our swaddles came undone a few times, and though our baby (luckily) survived, we ultimately preferred to use sleep sacks. We used organic cotton sleep sacks like this for the first few months before switching to the Halo system as our daughter got older and we were less concerned about organic sleepwear. Halo offers a variety of thicknesses (from thin muslin to fleece) for all stages (including this toddler option with holes for the feet). Make sure you abide by the age, height and weight recommendations on your sleep sack, so your little is wearing the right size and model to keep them safe.
Car Window Screens
Our car is small and our windows are untinted. It quickly became a nightmare combo, with road trip breast feedings leaving me a ball of nerves (I support moms who breastfeed openly in public and wish I could've gotten over my own body issues that made me always seek cover but, alas, I could not). But that wasn't even the worst part: our daughter's vision was at stake, with sunlight sometimes hitting directly in her eyes. Sunglasses worked until she gained full control of her arms and could rip them off, at which point we decided to pay to have our windows tinted. Due to a comedy of errors, that wound up not working out, and we purchased window screens like this for our rear window and these shades for our back windows, and cut out these removable clings for the tiny, oddly shaped side windows between the back seat and the rear window. None of these look pretty, but they're functional and helped make car time a little less stressful. If we'd found the removable clings first, we probably would've done that for all of the windows because, honestly, our car now looks like a science experiment with all of this mixing and matching. But that's besides the point. If you can afford tinting: do it. Now.
Nursing Pillow
Regardless of whether or not you plan on breastfeeding, so-called nursing pillows like the Boppy can come in handy. They make it easier to breastfeed your child (or really just hold your baby for long stretches of time). But that's not all: they can also be used for propping, tummy time, and helping your baby get used to sitting up once they're ready. You'll also need a cover; we opted for the organic cotton cover just to limit the number of chemicals our newborn was exposed to during those first few delicate months.
Back Seat Mirror
I honestly can't imagine car trips without being able to look in my rear-view mirror and see my child smiling back at me. OK, OK, so maybe sometimes she's screaming or crying. Point is, I can see her and know she's (mostly) ok. We had problems getting a mirror to fit the backseat headrests in our ridiculous car, and ultimately this one worked best for us.
Skip Hop 3-Stage Activity Center
Many baby "essentials" aren't needed beyond infancy, and if you buy them new and have no plans on a second child, it can feel like you didn't get your money's worth. That's why we love the Skip Hop 3-Stage Activity Center. It has a sleek design with fun pops of color (no sensory overload unlike many other activity centers), and it gives infants who can sit up a chance to stretch their legs, bounce and play. Once your little one is walking, it transitions to a play table. In fact, we bought four chairs to go around it. Most days we only keep out one of the chairs, but have all four out when we have little friends over.
Homemade Diaper/Boogie Wipes
All babies are different, and wipes that work great for some might be a recipe for diaper rashes for others. That's what I hear, anyway. We use Honest wipes for travel purposes, but when we're at home we make our own wipes using flex-size paper towels, Dr. Bronners baby soap, organic coconut oil and filtered water. Our daughter is 22 months old but has had fewer than three diaper rashes – and those cleared up pretty quickly without medical intervention. We also use these at home in lieu of "Boogie Wipes." Want the recipe? Leave me a comment, and I'll post if there's enough interest. I got the recipe from a friend, and it has proven to be invaluable.
NOTE: We advise against using Dr. Bronner's baby soap for bath time. It is not tear-free, which we learned the hard way. We use it exclusively for making diaper/boogie wipes (which is super easy to do and cheaper in the long run).
Baby Carrier
There were times I thought about getting a stroller but not a carrier. And others: a carrier only and not a stroller. Give some thought for how, when and where you'll be transporting your baby, and decide which system(s) are right for you because, honestly, you might not need both. Ultimately, I'm glad we have both, as we use each in different circumstances. In addition to light hikes and offering a closeness on walks that you can't get with a stroller, some days wearing a carrier might be the only way you're able to accomplish household chores.
We tried out a couple different carriers before ultimately deciding the Lillebaby Complete All Seasons was right for us. It offers lumbar support, multiple carrier positions, and you can unzip a panel for extra breathability for your baby during warmer months. Plus, there's no need for a special "newborn insert" (which is essential for carting around small infants in other brands). You'll just want to read the manual to determine which position is safest for your baby based on their size. One caveat: you'll want to make sure your baby's airways are unrestricted at all times in the carrier. That's one concern with all carriers, so even though the Lillebaby Complete All Seasons worked for us and is what I recommend, you should still try on a few different models – preferably with your baby – to determine which one is the best fit for you. Regardless of which model you choose, you'll still want to keep an eye on baby's mouth and nostrils to make sure they remain clear whenever they're in the carrier.
Portable Bouncer
This only came in handy the first six months or so, but boy did we use it. It's pretty much the only reason I ever showered while on maternity leave. They work like this: you safely strap in your baby and use the handles to carry them around the house with you when there's work (e.g. showering) to be done, and no one to assist you. But there's a caveat: bouncers/seats with handles are becoming increasingly difficult to find, and I'm guessing it might be because of safety concerns.
The one we used is no longer available (it's a hand-me-down), but I stumbled onto this one – which works outdoors as well – and it looks pretty nifty, though it isn't a bouncer (it's more like a mini pack-n-play for newborns). I'm guessing true bouncers with handles are somewhat of a liability for manufacturers, as you need to make sure your baby is safely strapped in; you need to exercise caution when walking; and you need to make sure your baby is safe wherever you place the seat (but that kinda goes without saying with every aspect of parenting). That said, we never had any problems, and by 2-3 months, our daughter enjoyed her bouncer. Keep in mind, these come standard with some playpens. Don't register for both when you can save by just getting one.
Pack N Play
Our ridiculous car isn't family friendly (if we could've registered for a new car, we would have), so we sadly haven't been able to take our Gracco Pack N Play on road trips. HOWEVER, we still use it daily. The first few weeks of life, the removable seat (seen above) occasionally provided a safe space for our child when we couldn't hold her. But from the very beginning and even still now – because our daughter hasn't tipped the scale yet – we use its changing station for the vast majority of diaper changes. And we use the actual "play" space for short time outs. The play/sleep space has also been used for naps by the babies of visiting friends. And provided you don't drive a clown car, like us, you can take the Pack N Play with you for hotel stays, trips to grandma's, etc.